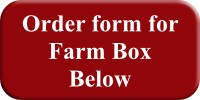 Welcome to the 2023 Farm Box! Farm Box is our delivery program that will get all the fresh produce delivered right to your door at home or at work! The farm box will contain a well rounded variety of fruits and vegetables. The farm box will change from week to week, depending on what is in season!
The farm box is a 16 week program that can change depending on the weather.
4 Week Minimum order
The farm box program starts around June 20th.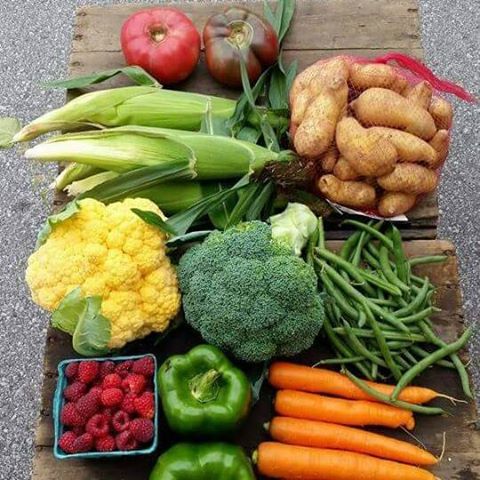 Small
Produce for 1-2 people
16 week season $480.00
4 week Minimum $120.00
Regular
Produce for 2-4 people
16 week season $640.00
4 week Minimum $160.00
Large
Produce for 4-6 people
16 week season $800.00
4 week Minimum $200.00
Small Box: Contains up to 5 different items
Regular Box: Contains up to 8 different items
Large Box: Contains up to 10 different items
Our promise is to bring the freshest produce available. We spend many hours harvesting the best produce to bring to your doorstep. We believe in farm to table the way food should be!
Earn FREE Produce
We know that our customers love our service and they are our best spokespeople! That's why we give you a $10 credit on your account for every person you refer to us. It's our little way of saying thanks for spreading the word!
Bread and Eggs are only going to be Bi-Weekly option.
Great Harvest Bread or Cookies
Full Season Share Bi-Weekly $80.00
Local Farm Fresh Eggs
Full Season Share Weekly $90.00
If you order bread or eggs please put your order in the Special Request Box!

Farm to Business Box
We deliver to your Business and you receive discounts!
So the more that sign up the bigger the savings!
3 or more boxes receive 5% off
10 or more boxes receive 10% off
20 or more boxes receive 15% off
If you'd like some flyers, just let us know and we'd be more than happy to include some with your next delivery.
PAYMENTS will be accepted by check made out to Moders Farm Box. Mail a check to 3439 Lineville Rd Howard WI 54313, pay by cash at the farm . Payments are due within 14 days of order
CREDIT CARD PAYMENTS FOLLOW LINK https://squareup.com/store/moders-farm-box/ there is a 2.75% credit card fee that will be add.
The farm box will run from June till October. We do ask for a two week notice if you are planning on cancelling for a week!
Paying by check or cash fill out the form below.
Order for Farm Box